Think of the Waggin' The Dog, Inc "BITE SCALE" like a 1 to 10 rating scale as a way to determine the "HEAT" level of our products. Please enjoy and... BEWARE THE BITE! Try some of these GRRREAT Recipes Today
Phydeaux's CHIPOTLE CHILI PHYXIN'S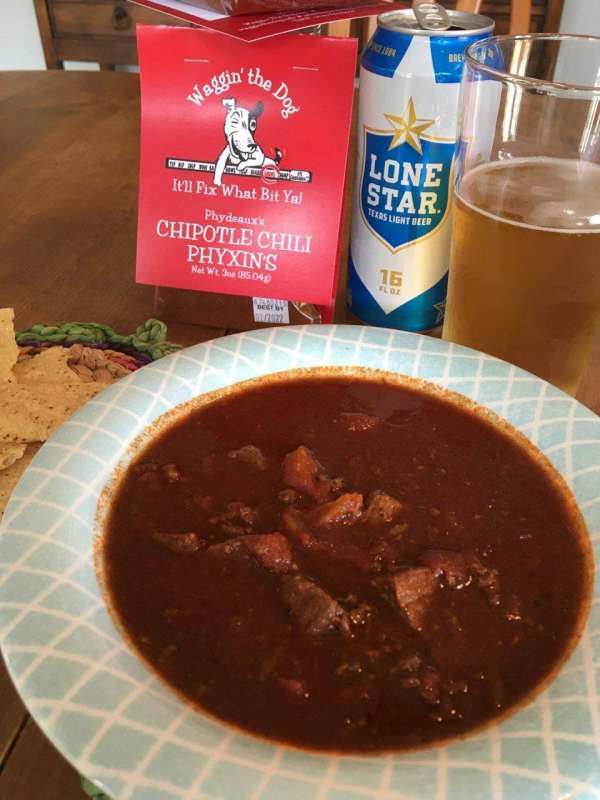 Brown 3 lbs. meat (Phydeaux prefers 1-1/2 lbs stew meat and 1-1/2
lbs ground chuck) in a 4 quart stock pot; drain grease.
Add Chili Mix, 1 - 28 oz. can whole peeled tomatoes, crushed by
hand (make sure your paws are clean!), 1 - 14 oz. can crushed
tomatoes, 14.5 oz can beef stock and 1 - 12oz can of "The National
Beer of Texas" (Lone Star Light).
Simmer on low for 1-1/2 hours, stirring occasionally.
Salt to Taste. Makes about 2 quarts.
Phydeaux knows chili is like a good dog bone... it only gets better
with time. Please enjoy and "BEWARE THE BITE!"
Phydeaux's "DOGGONE GOOD" SOUTH TEXAS CHILI MIX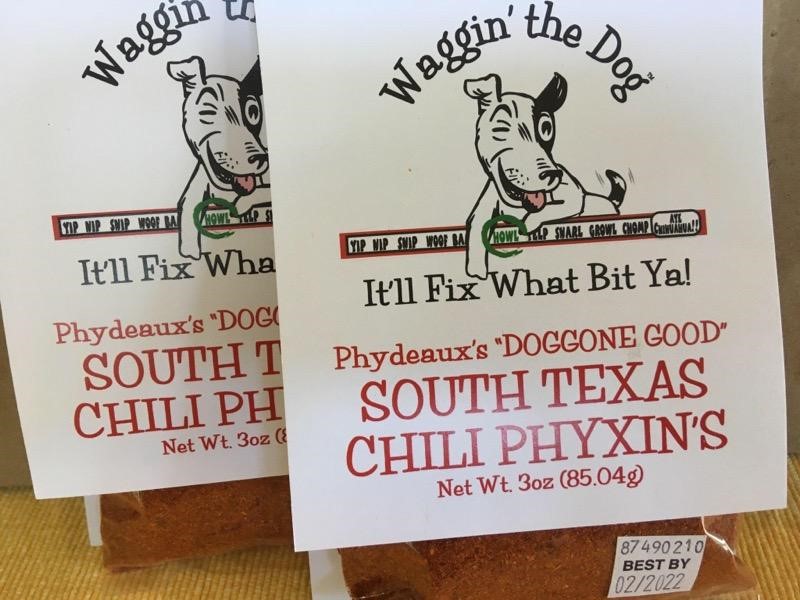 Brown 3 lbs. meat (Phydeaux prefers 1-1/2 lbs stew meat and 1-1/2
lbs ground chuck) in a 4 quart stock pot; drain grease.
Add Chili Mix, 1 - 28 oz. can whole peeled tomatoes, crushed by
hand (make sure your paws are clean!), 1 - 14 oz. can crushed
tomatoes, 14.5 oz can beef stock and 1 - 12oz can of "The National
Beer of Texas" (Lone Star Light).
Simmer on low for 1-1/2 hours, stirring occasionally.
Salt to Taste. Makes about 2 quarts.
Phydeaux knows chili is like a good dog bone... it only gets better
with age. Please enjoy and "BEWARE THE BITE!"
JALAPENO CORNBREAD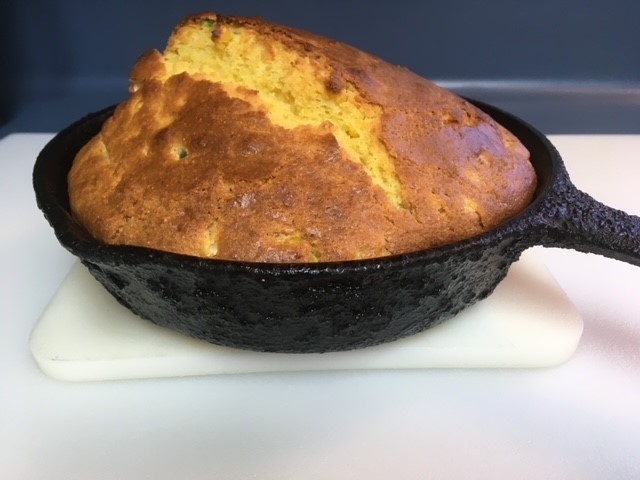 1 C Yellow Corn Meal

1 C Flour

4 tbsp Sugar

1 C Milk

4 tsp Baking Powder

2 Egg


1/2 tsp sea salt

1 ear fresh Corn  

1/4 C vegetable oil

1/2 C Fresh Chopped Jalapenos without seeds    

Preheat oven to 425. Add veggie oil to 8" cast iron skillet and place in oven while preheating. 

In large bowl combine all ingredients  (including warm oil from skillet).  Mix well.

Put mix in warm skillet.  Bake (+/-) 20 minutes.

ENJOY! 
Hair of the Dog Red Beer
(aka Phydeauxs' PHYRE BREW)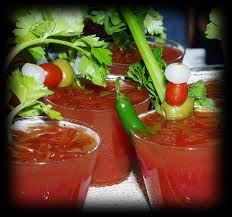 6* oz  favorite COLD BEER 
(Phydeaux prefers LONE STAR LIGHT Tallboy)
6 oz Waggin' The Dog, Inc Bloody Mary Mix chilled
Pour Bloody Mary Mx into drinking vessel of
your choice (over ice if prefer).  Add beer. 


Stir

Garnish with pickled Quail eggs

Enjoy!

*add remaining can of beer as you drink
"BITCHIN' GOOD" QUESO
8 oz Hair of the Dog SALSA RANCHERA

1/2 block "Velveeta" Cheese, cubed

Place cheese in microwave safe bowl. Add 

Salsa Ranchera. Heat on medium 2 minutes, 
stir.
Continue heating and stirring at 30 second intervals
until cheese is completely melted.